The Great Lancaster Half Marathon: Race review
The Great Lancaster Half Marathon: Race review
I'm not really sure where to start, what to write or what to say, or quite what to make of this journey. And something that I heard recently is stuck in my mind and that is that you should only write the story after you have been on the journey, you shouldn't try to live the story through the journey but only reflect afterwards on what that story was.
That makes sense because I've come here with no expectations, ambitions other than to run fast and hard and see what I can do. Realistically, with very little training, there will be a limit to that. And, of all the journeys I have been on this year, this is the freest…
……….
A voice note I recorded the night before The Great Lancaster Half Marathon. Going into race day I had no expectations – I knew, as ever, what my PB was and in the back of my mind, I knew the race I had to run to achieve a sub-1:45 but it seemed like a pipe dream. I'd have to 'borrow one' as the late, great Ron Hill once remarked about achieving high performance without training having gone to plan.
And truth be told, my training for this half marathon failed to catch fire at any point. I had only run over 10 miles once since the Madness Marathon in June, over 5 months ago. I had rarely ventured over 10k. Getting a PB seemed a tall ask, so I let go of ambition and set about an enjoyable 24 hours in Morcambe.
Seeking some pre-race fuel the night before the run, I visited a quaint little restaurant near to the centre. Miaitalia serve traditional Italian fare. They are, by a margin, the best Italian I have been to outside of Italy. Unmatched for authenticity, the restaurant is simple and stripped back. A place where the food takes centre stage. We often describe food in clichés. I'm not going to do that here. If you're in Morcambe, give it a visit.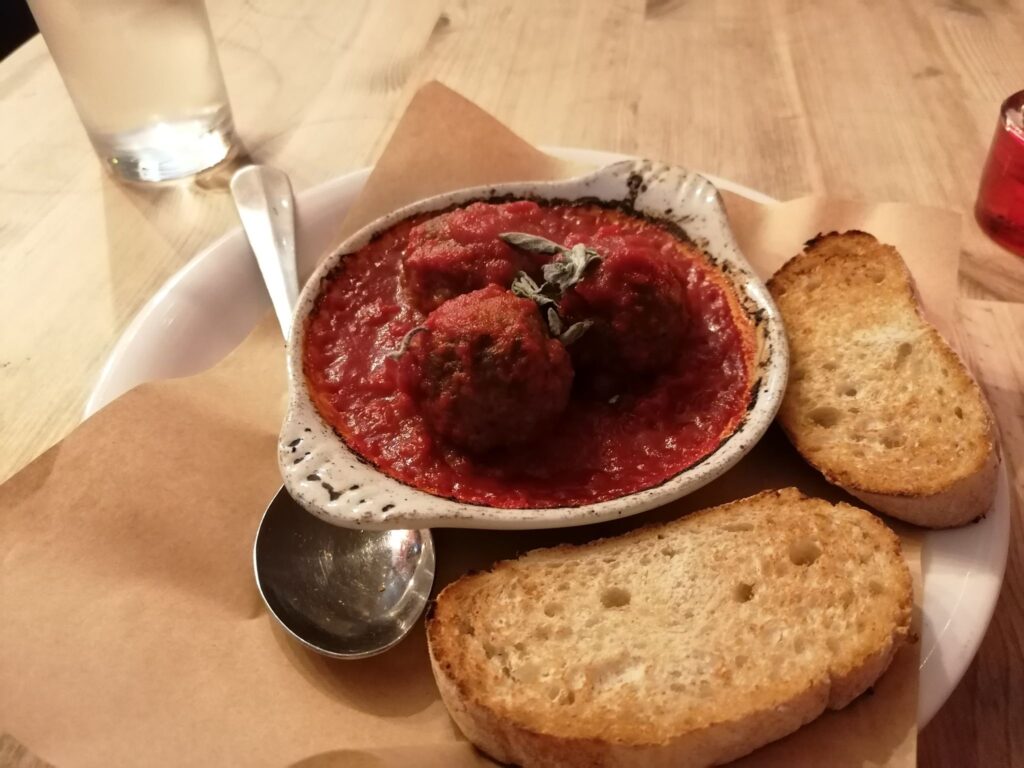 After carb loading on sumptuous meatballs and a cracking no-cheese pizza, I headed for a quick Guinness – not known for its performance enhancing capabilities! On returning to Travelodge, I set about an early night after watching the end of the rugby.
Race day always dawns early. I never hear my alarm the morning of a race. The adrenaline takes over and I'm awake, counting down the minutes until I leave the hotel. Match of the Day provides some background noise to my stretching routine. At some point, I guzzle down a black coffee and three slices of toast, thickly marmaladed. I'm calm but my anticipation is building – I only need to look at my heart rate monitor which reads 15 beats per minute above my resting average to know that the start time is near.
With that said, I feel almost too calm. I take energy from my pre-race playlist of Trance hits. Pete Tong's cover of Adagio for Strings re-establishes a sense of calm before I wander back to my car to drop my spare kit. Less than an hour to go.
Race HQ is at Trimpell Sports Centre, a small building on the edge of the cycle track where the race will begin. I collect my number then start my elongated pre-race warm up routine that I have used since returning from injury in 2020.
My expectations are low. Expect nothing. Experience everything. Write the story later.
About 20 minutes before the start I realise that I'm nervously milling up and down with the sense that something is missing. It takes a moment of stillness before I realise that I'm thirsty and grab a bottle of water to sup before the start.
The start line awaits.
I was offered some sage advice before setting out – don't go off too quickly. You can't race for 13 miles. Use the first 3 miles as a warm up.
I kept repeating that advice before the start. But, as ever, my eagerness to get away to a flier gets the better of me and I find myself ahead of pace as my watch hits 1 mile. I ease back. There's a long way to go.
At some point in the early miles, I try to take a quick swig of water but it goes everywhere. I run my hand over my face. My glove is wet through and freezing cold. The refreshment is welcome. Even on a cold day, running is surprisingly warm work.
The weather is relatively kind for a November morning but, given that we are by the River Lune, there is a headwind on the way out. As we run through the first 4 miles, I'm neatly tucked in to a group as we silently work away. I try to resist the urge to up the pace too soon – I always run as even splits as I possibly can. Running negative splits is a challenge. At around 4 miles, I see a fellow Ram and take energy from their encouragement. My focus sharpens.
On we go, ticking the miles off. Keeping the pace steady. Another 3 miles tick by without incident, then a short climb provides the only test of a straightforward course.
We eat hills for breakfast
The thought flashes through my mind from a race gone by. We eat hills for breakfast and I'm hungry. I run the hill the only way I know, driving hard to the top.
If I'm going to finish anywhere near my previous best, it has to be now. It's time to find out if my negative splits are going to be a dream, or reality. We have broken the back of the short climb that the half marathon route offers and it seems like a good moment to see what my body has left to give. I gradually turn the dial and am pleasantly surprised at the energy I have left. Trying to encourage a fellow competitor, I cheerily chirp "if we keep this up, we'll go under 1:45". At least, I hope so.
Running back along the river, I begin counting down the miles, pushing the pace with each passing mile marker. Everything happens in slow motion, the clasp on my fuel bag takes a little work to undo but I manage it whilst keeping stride. I afford myself a smile. That doesn't happen often.
Pace both matters and doesn't. Run hard. Write the story later.
We cross the river again just before another mile marker. There are just two miles left and I'm not going to be left wondering if I can go sub 1:45. I'm fully immersed in the task. This is the zone and I love being in it. Especially at this time in a race.
1.5 miles to go. Pain only hurts. Scott Jurek's motto accompanies me as the miles turn into minutes left in this race. Yes, I'm starting to become uncomfortable sustaining such an effort but it's awesome to be here. I'm grateful to be able to run this hard, this far and in good form. The privilege isn't lost on me today.
I push again with just one mile left and surge again, not looking at my watch now. No watch can help you in the dying embers of a race. There is no value in pacing at this stage. Run hard. Write the story later.
At some point near the river I become aware that I'm now ahead of the mile markers. That's bad news. I know I need to run through the finish line and find a run off if I'm going to complete the distance. A PB is not a PB unless it's valid on Strava, right! I drive towards the finish, giving everything I have in the final push.
On crossing the line, I veer left and down towards the sports centre. The race director taps me on the shoulder "you can stop running now". I glance at my watch, I'm done.
1:44:21.
Mission accomplished.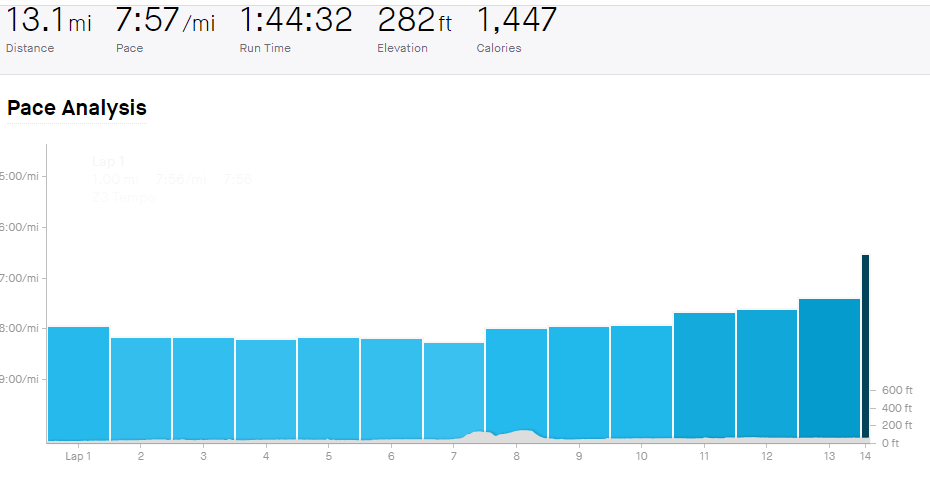 If you are looking for an autumn half marathon next year, I'd recommend giving The Great Lancaster Marathon a go. The event was efficiently run with number collection, the start and finish all well organised. All the marshals gave plenty of encouragement around the course and the water stations were in well thought out locations. The medal is lush too!