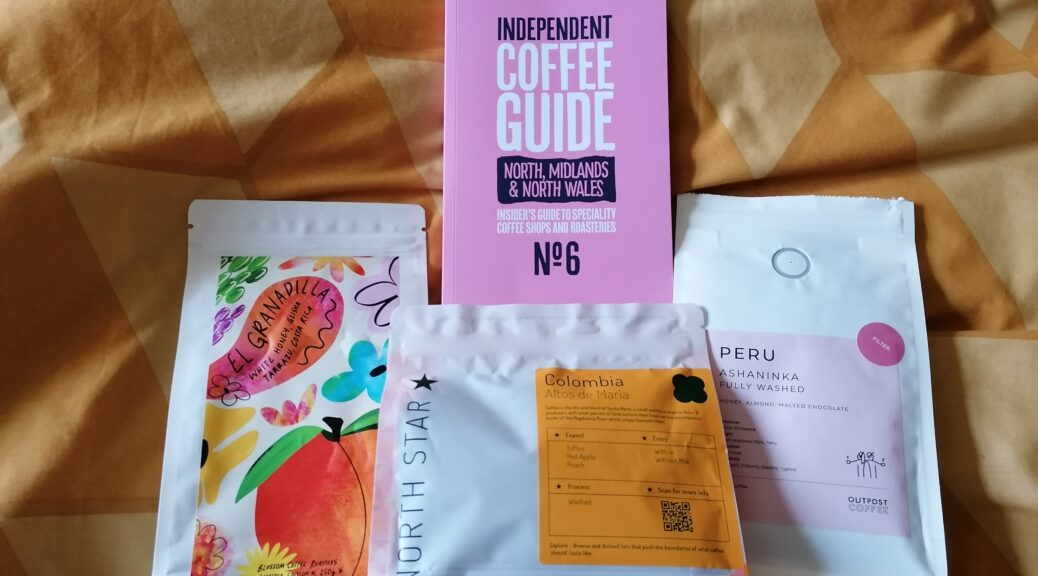 Manchester Coffee Festival: Passion Reignited
Manchester Coffee Festival: Passion Reignited
The Return of Manchester Coffee Festival
The pandemic has been tough for everyone.
The coffee industry is no different.
In 2020, Manchester Coffee Festival was cancelled due to the pandemic, many roasteries suffered supply chain issues due to the impacts of COVID-19 and human connections became reliant on WI-FI connections as the world went digital. When the event announced its return for 2021, I put it in my calendar straight away.
There was no way I was going to miss this.
Manchester Coffee Festival is a celebration of our diverse coffee industry. It brings together those who work with coffee and those who simply love drinking it.
Innovation and inspiration have kept the industry alive. This weekend, it's time to celebrate.
Great Coffee Is Best Shared
When the country was locked down, everyone scaled their lives back. After an initial online shopping spree, I cut back to the basics. Except for one item. Throughout the pandemic, I have always bought good coffee. If nothing else, on the worst days, at least I would wake up to something delicious to start the day.
The problem? Whilst the coffee was bangin' (to pinch a phrase from Rosie at Outpost Coffee), we were all denied the chance to meet new people, mingle and share stories. Great coffee is best shared. The coffee festival was full of familiar faces and there was so much catching up to do. The very best thing about a coffee festival, other than the coffee itself is to see roasteries enthuse about the product they work so hard to perfect. Speaking to roasters about the latest batch of coffee that's making them excited is the best way to discover your new favourite batch.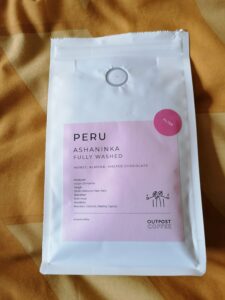 I've always loved Peruvian coffees. So, when I saw Outpost's Ashaninka, I was immediately drawn in. But origin alone doesn't sell coffee, the people and the stories behind it do. I could tell, almost immediately, that the guys at Outpost loved their product. After a quick chat with Rosie, I was sold, although I didn't need much convincing. If ever I am in the Midlands, I'll be sure to make a visit to their roastery and, if you love coffee, you should too.
As we're talking, I can hear the lively hubbub of the event all around us, the smell of coffee permeates the air. The cupping competition is underway across the other side of the tent and a talk is starting soon. The excitement is palpable.
After our first lap of the hall, we duck out for a bite to eat before the talk begins.
Where Coffee Meets Leadership
The festival gives the opportunity for roasteries and producers to tell their stories and talk about the issues that are most important to them. Jessie May and Al from Raw Material coffee caught my eye with their talk on transforming Mexico's future.
Oaxaca is one of the poorest states in Mexico. Whilst the country itself is relatively rich in terms of GDP, it has a high level of poverty too. The issue of growing coffee sustainably was a no-go until Raw Material came on the scene.
Growing sustainable coffee in a poor area with little infrastructure requires innovation. Coffee leaf rust disease and a lack of infrastructure mean that yield is desperately low in Oaxaca. Twenty-four times lower per hectare than in parts of Columbia, to be exact.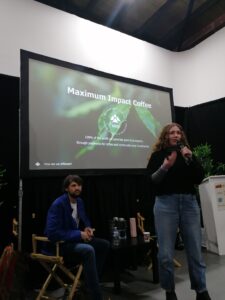 Producers in the region sell their coffee to local buyers at a set rate. They earn just enough to make coffee a worthwhile crop but not enough to reinvest in the new infrastructure needed to drive production forward.
Raw Materials are changing the game. They buy the coffee at 2-3x the value paid by the local buyers to ensure that any investments are worthwhile.
Where it gets really interesting is the approach Raw Materials take to marketing the coffee. Mexico has a rich history and the coffee farmers have immense pride in their work. It would be easy for Raw Materials to buy the coffee and market it in a way that is appealing to them but the team take a different approach and one that I admire.
Instead of over-designing their coffee bags, Raw Materials asked the coffee farmers what they find important. Their answers were insightful. This approach explains why one of the coffee bags has the design of a moon (from the Luna family coffee plantation) and another has an illustration of the bird that the coffee farmers always hear as they head out to work in the morning.
It is an authentic and bold approach and one which I genuinely hope reaps rewards, both for Raw Materials and for Mexico in the years to come.
Reunited With Old Favourites
Manchester Coffee Festival would not be complete without a chat with the fantastic team at North Star Coffee, or a catch up with the guys at Olam Speciality Coffee. Their boundless enthusiasm for their product, and the obvious pride they take in its production speaks volumes.
During one of the many lockdowns we had during the COVID-19 pandemic, I bought a couple of different coffees from North Star. One Columbian lot in particular hit the spot. But, as with many things, coffee is seasonal and there are always new coffees from different farms to be tried. North Star currently have another Columbian lot on offer, Altos de Maria, and it's divine. Rich toffee notes burst through when I had a quick tasting – I can't wait to try it out at home.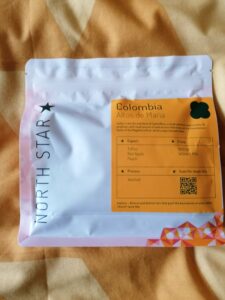 A Taste Sensation
The myriad of tasting notes given to some coffees often draw raised eyebrows from those outside of the speciality coffee scene. But, as with most things, the devil's in the detail. A quirky flavour note on a packet of coffee beans often indicates an interesting back story, processing method or a particular quirk of a coffee plantation. Ignore them and you might miss out.
Blossom Coffee Roasters' El Granadilla caught my eye for exactly that reason. A coffee of Costa Rican origin, El Granadilla boasts notes of white honey. Treat it right and be rewarded with a syrupy smooth cup with a distinctive character. I'll have plenty of fun brewing it through my Aeropress in the weeks ahead.
Chai time for a good time
The one thing, other than coffee, that's always awesome at Manchester Coffee Festival, is the chai. Chai lattes have become mainstream in recent years but Jeeves and Jericho are the masters where chai concentrate is concerned. I can never resist a bottle of their Spiced Bombay Tea. It always packs a punch in a warm bowl of porridge on a winter's day.
There are a couple more vendors stocking chai and we stop by for a chat about the differences, suggested uses and more delicious tastings along the way. Chai festivals are the future…
A day well spent
Whilst I was walking around, I came across a friendly face who remarked 'you do a lot of writing, don't you?' It reminded me of the passion I used to have for writing, sharing my love for coffee and running. I have found it difficult to do that since the COVID-19 pandemic began.
The festival reminded me of the importance of shared values, experiences and stories.
Perhaps now is a good time to start sharing mine again.