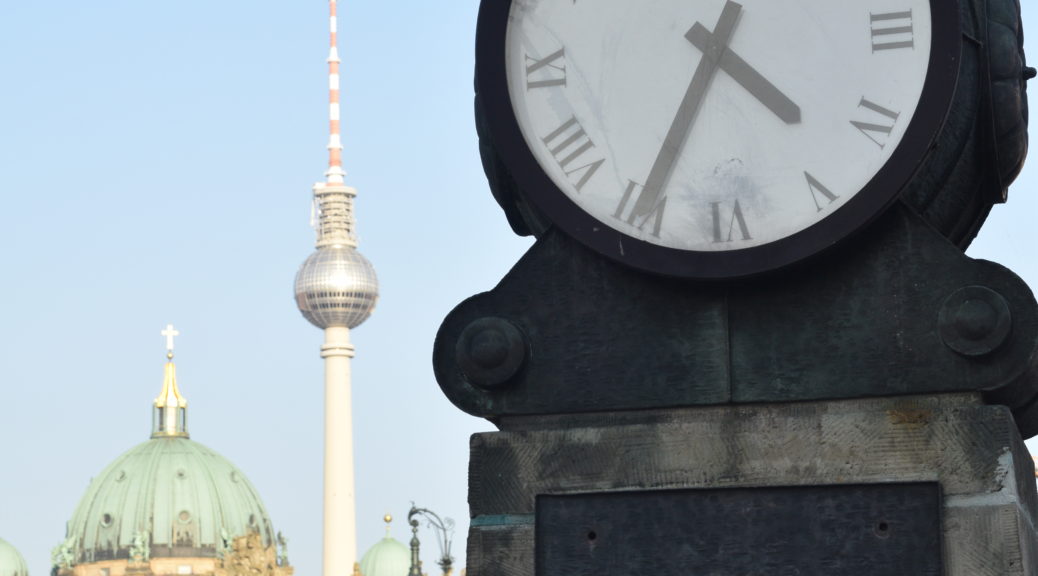 Exploring Berlin
Exploring Berlin
A Day In Berlin
Wanderlust:  A burning desire to travel.
A year has passed since I travelled to Geneva for my first ever city break.  Until recently, I didn't have the opportunity to explore anywhere new.  By the time October came around I was itching to travel.  Booked just over a week before I was due to fly, I had little time to plan or pack before setting off to the German capital of Berlin.  I would have just over 36 hours to explore what the city had to offer, every minute had to count.
Travelling to Berlin
When travelling by air, I love nothing more than staring out of the window at the distant earth below; noticing each time we cross from the sea to the land or pass over a stretch of land I recognise.  For this reason, I was glad I paid a little extra for a window seat over the wing of the aircraft, something I often do when travelling alone.  This particular morning, I spent most of the flight drifting in and out of a restless sleep so didn't see much anyway.  It didn't matter as the stormy weather outside obscured any views I would have had in any case.
Once I disembarked the aircraft my journey began in earnest.  Berlin's efficient but incredibly complex transport system is both a blessing and a curse for a tourist.  A maze of busses, trams, S-Bahn and U-Bahn lines, there is no shortage of transport options.  Finding which connection you need to make is the difficult part.  My journey from the airport to my hotel took around an hour and a half, including twenty minutes searching the backstreets of Adenaurplatz for my final destination.  With my very limited grasp of German (read:  Hello, Goodbye, Thank you and Beer!), I was reliant on my own intuitions for the journey although I was incredibly grateful for the help of one English speaker when I became completely lost looking for my hotel.
The Brandenburg Gate
One of the main sights that I wanted to visit in the city was The Brandenburg Gate.  It has been the centre of a number of historical events.  The gate was one of the main crossings between West and East Berlin until the fall of the Berlin Wall and now acts as a reminder of the Cold War which dominated the region until 1991.  Just a few metres away stand several white crosses in remembrance to those who have died at the Berlin Wall.  Of my time in Berlin, this particular memorial was the most thought-provoking and evocative.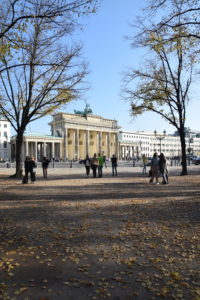 After I visited the gate I also took in the Reichstag Building and the Memorial to the Fallen Jews of Europe.  The memorial, made up of many grey blocks, takes on the appearance of a cemetery in recognition of those who died.
Finding Food
By the time the skies darkened I was starving.  By now I knew my budget for the trip was way too tight and I had around thirty euros set aside to get a good meal and a beer.  After a quick Google search I decided to try Gasthaus Krombach, a traditional German bistro a couple of miles walk from the hotel.  Although it took a while to find, I was glad I walked so far; I chose a traditional Berlin meat dish and it was incredible.  The dish, Berliner Hintereisbein, consisted of a fillet of pork, a meatball and a sausage accompanied by boiled potatoes with onions and sauerkraut.  After a day walking around Berlin's many landmarks, it was exactly what I needed.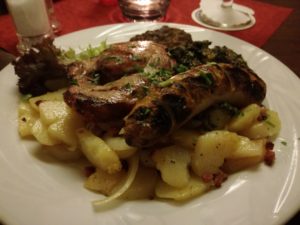 After devouring as much as I could, I made my way to a local bar to watch football with the locals.  As two games were being screened simultaneously I didn't quite know which team to support!
For the first time in my life I also discovered that I like pretzels, quite a lot.  In the past, I have only eaten American style pretzels but traditional German pretzels are a whole other ball game.  There seemed to be a shop selling pretzels at every other train station.  I was amazed at how popular they were.  That is, until I tasted one.
Checkpoint Charlie and The Olympic Stadium
The next morning, I visited Checkpoint Charlie which features a reconstruction of one of the guardhouses along the Berlin Wall.  Checkpoint Charlie is a popular destination for those wanting to learn more about this previously divided country.  I was slightly disappointed to learn that the final standing part of the wall is housed in a pay-to-enter museum.  Instead, I decided to spend more time reading about the history of the area from the signs and plaques outside.
With time quickly running out, I made a dash across the city to the Olympic Stadium.  It would have been quick but my train broke down half way.  As with anything when you are short on time, the replacement seemed to take forever to arrive!  Every cloud has a silver lining though and by the time I reached the stadium the weather was perfect for a quick photograph before I headed back to the airport: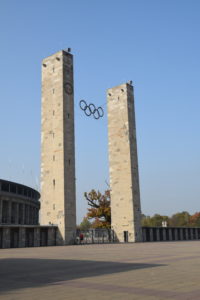 Forty Thousand Steps Later
When I reached Berlin Schonefeld to catch my flight home I had walked just over forty thousand steps.  Before heading through the airport I stopped at the pub directly outside.  Bought with my last bit of change, I savoured a slice of a traditional Streuselkuchen mit Kirschen, Crumbly Cherry Cake to you and me, in the company of a stag!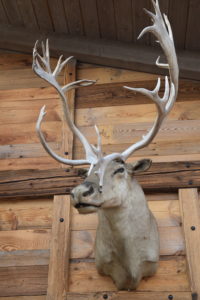 If I had no idea quite how vast the German capital was before, I certainly do now.  My flight home was the end of an educational and exhausting trip.  Bis zum nächsten Mal.