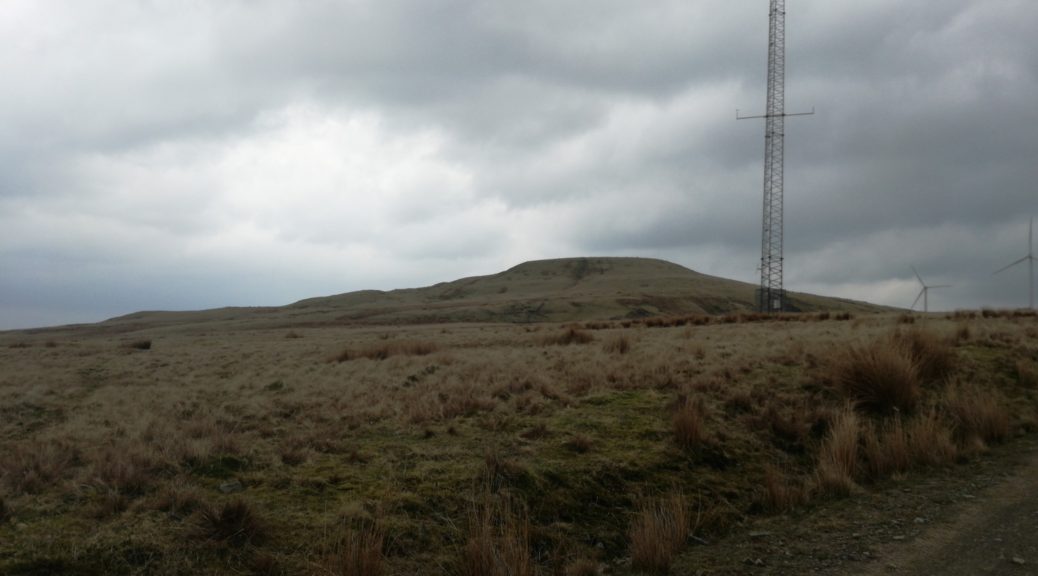 Getting Lost On Scout Moor
Getting Lost On Scout Moor
Going running without a plan is not a good idea.  Running somewhere you have never been before, on high, uneven ground may even be dangerous.  Yet that's how I found myself last Sunday afternoon.  I set out with a friend in mild, although grey, conditions from Owd Betts and headed for Scout Moor.  Although I'd never been up the hill from this direction, I was confident that if we stuck to the pathways, both my friend and I would be perfectly safe and would have a good but challenging run.
My confidence was misplaced.
Climbing From the Lake
Soft and boggy underfoot to begin with, the trails were sodden with rainwater and slick with mud.  By the time we reached the first climb I had stumbled at least a handful of times.  This wasn't a test of running ability but balance and agility.  At least we managed to miss the mud in the process.  It was the right kind of challenge, we didn't think about running on the ascent, focusing on where we placed our feet instead.
Near the top of the trail, we crossed paths with a couple of walkers coming in the other direction.  I asked, rather hopefully, which direction we needed to head in to reach a path.  The walkers directed us towards a stile just a few hundred yards ahead.  We continued, upping the pace as the terrain became easier and flatter.
One Crucial Mistake
My first mistake was not taking proper notice of where we left the trail and joined the coal road.  Being mindful of where we'd stepped was one thing, knowing which path those steps were on proved a completely different challenge.  For half an hour, we ran care-free on the coal road, navigating easily from one route to the next forming a rough circle.
I thought the route we took would allow us to come full circle back to our starting point.  It didn't.  Instead, we struggled to locate the path we needed to take to complete our circuit.  After a few failed attempts and getting more disorientated by the minute, we decided to run anti-clockwise back to our starting point, it seemed to be simpler, if longer option to take.
Wrong again.
Lost on Scout Moor's confusing Coal Road
Sometime after we joined the coal road, the weather closed in reducing visibility and making conditions much less pleasant.  It wasn't a problem to begin with.
The seemingly busy paths were now quiet.  Seasoned walkers knew better about the conditions than we did.  We ran quickly to begin with but became confused as paths crossed over, leading us astray.  In hindsight I should have turned to my Garmin's 'Back to Home' feature much sooner but with very limited battery, I didn't want to start it up too soon.
Just as we thought we were lost atop Scout Moor Wind Farm forever, we saw a figure moving in the distance.  I couldn't tell whether the weather-hardened walker was moving in our direction or away from us but I started quickly in his direction.  Delighted to finally be on the right path (it must have been an hour after we first realised we were lost!) we were keen to follow our new found directions.  The only thing was, they weren't easy to follow.
The weather-hardened walker knew what he was talking about. Yet, the directions he gave were confusing for someone unfamiliar with the arrangement of windmills and posts in the ground.  It was a step in the right direction though and it proved crucial.
Finding Our Bearings
I finally remembered to switch my Garmin back on, swiftly selected 'Back to Start' and realised just how close we had been all along.  The route down to the bottom of the hill wasn't exactly simple; we didn't find the path by the white post at the first attempt.  By this point my arms and legs were covered in mud as I had stumbled through a few patches of boggy ground, struggling to keep my balance.  The rain, which had been falling for half an hour turned paths into squelchy, churned up mud baths.
I have never been so relieved to see the start of a path.  Once we finally found our bearings, the familiar sight of the lake and my car came into view.  Two hours after the adventure began I peeled my shoes and socks from my sodden feet.  Luckily, I was mindful enough to bring a spare pair of shoes to drive in. Our adventure on Scout Moor was over.
Running on difficult ground around unfamiliar areas will become commonplace in the months ahead as I train for the Rochdale Half Marathon later this year.  Yet, unlike last weekend's chaotic adventure, I will be sure to plan ahead and take note of the paths I have covered.
Warmth has never felt so good.