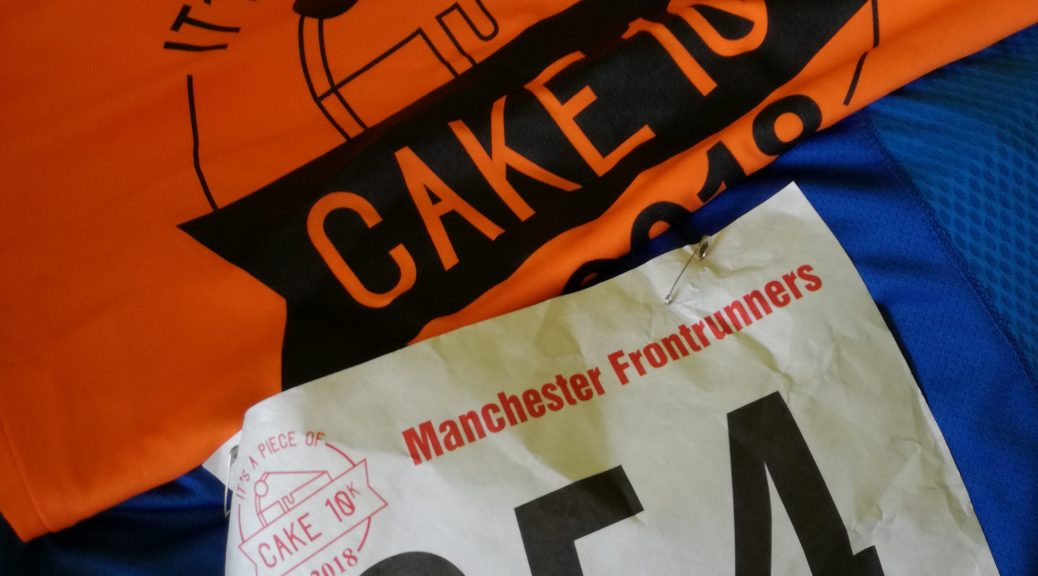 Review: It's a Piece of Cake 10k
Review: It's a Piece of Cake 10k
It's A Piece Of Cake 10k 2019: Manchester Frontrunners
Firstly, let me clarify.  It's a Piece of Cake is definitely not something I would say about this hilly 10k.  I turned up last Saturday morning, dressed appropriately for the 20-degree heat, not sure what to expect.  Sweating before the start line, I knew it would be harder than usual in the heat.  At least it would be a piece of cake…
The event, organised by Manchester Frontrunners, took place in Boggart Hole Clough, a park I have often passed but never entered.  That was part of the charm.  I love exploring new places.  Running is no different.  Just off the main road on my usual route into Manchester, the park is a hidden gem.
The Excitement Of Race Day
I hadn't signed up beforehand and worried on the Thursday evening that I'd missed my chance.  After some searching I learned that race numbers would be available on the day. I stowed £15 into my running pouch, packed plenty of water, a banana and a towel into a small bag and set off in plenty of time.
I claimed race number 354.  Race entry is slick.  I walk up to race HQ at 09:50, collect my number and four safety pins.  After fumbling around trying to pin my running number to my t-shirt, I move on  to attaching the timing chip to my trainers.  To my surprise, it's much easier than I first imagine.
I begin gently jogging around the park to warm up.  At a recent event with Ramsbottom Running Club I learned how important it was to warm up properly.  A recent event held by the club highlighted the importance of running properly and the benefits that warming up has on your performance.  After listening to the talk, I have paid more attention to my warm up routines, making sure I warm through thoroughly and slowly enough for my body to respond to each increase in exertion.
I round the first corner, heading out on my warm up fifteen minutes before the race and spot the famous Ninja Paul, an old running buddy turned photographer I met at Sweatshop Running Club.  We engage in running related chit-chat and I ask whether he will take a photo of me in action.  He duly obliges.  Epic!  With ten minutes to go, I jog back towards the start line, gently increasing the pace each time.
It's A Piece of Cake 10k – Angel Delight
As the race begins, there is plenty of whooping and cheering and I hear people mutter about Angel Hill.  It's no angel.  It might as well be named Devil's Hill, akin to Heaton Parkrun's crazy Cardiac Hill.  Back to Boggart Hole Clough, it comprises of three laps, almost equidistant in length.  The third lap will not take in the lake, instead running straight down the path in a simple sprint finish.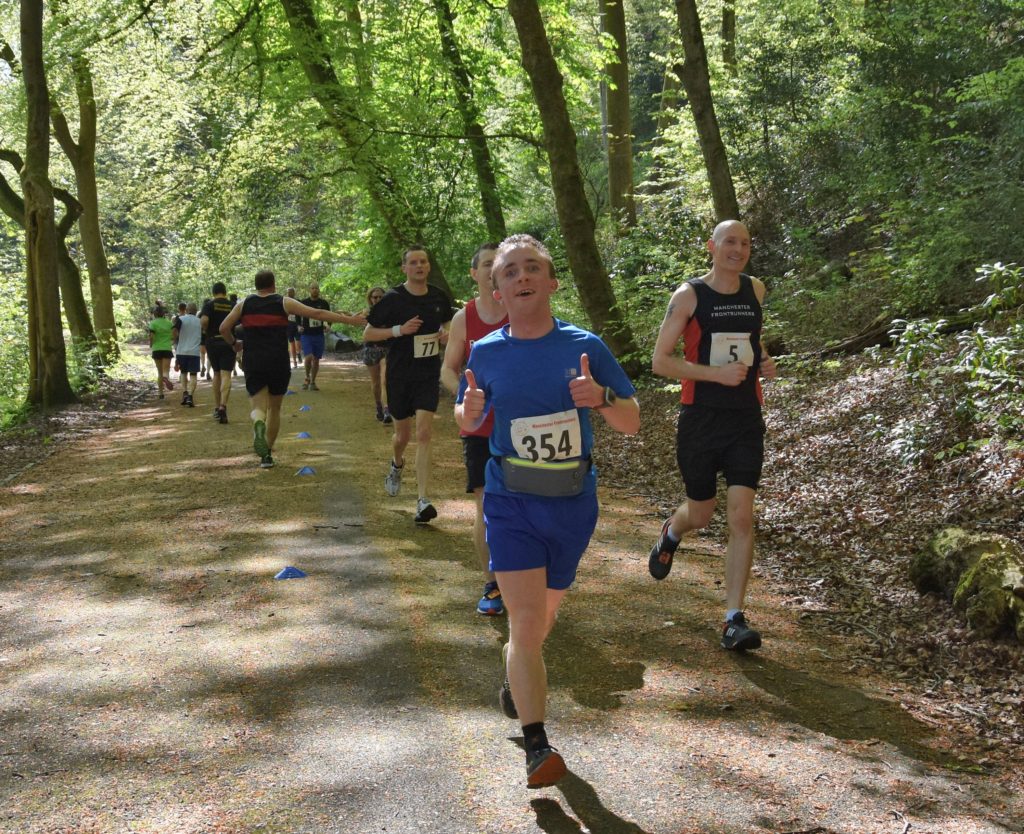 The lap starts with a quick 1km dart downhill after the start, bending right to stay on the path before running in a U-bend to the foot of Angel Hill.  Here's where the fun begins.  I'm in surprisingly good condition and tackle the first section of the hill with relative ease.  I focus on taking short, quick strides although my technique needs work.  The gradient eases, the hill is over.  Or so I thought, after a short flat stretch, we begin to climb the second part of the hill, feeling tantalizingly close and ages from the summit at the same time.
After a short, steeper section, we turn right and run over flatter ground.  I catch my breath.  There's a knack to this.  I don't want to hammer down the hills, especially if there's going to be two more of them, I will keep a steady pace and give it my all on the two remaining climbs.
Lap 2 – Strong and Steady!
My second lap is a little less gung-ho than the first.  I know how I want to run and keep to a pace which will allow me to finish in a little over 50-minutes.  I passed up on the opportunity to take water on the first lap but make sure I'm in prime position the second time around.  Ever since I started running, after I left high school, I have avoided taking on fuel when running less than 10 miles.  The conditions mean that isn't possible here.
It's on the second lap that I notice how enthusiastic the race marshals are.  Compared to other races, the guys are really up for it.  Enthusiastic cheers fill the air with every runner that passes.  Each marshall has something different to say and I particularly enjoy passing one race marshall whose mobile radio pumps out D:Ream's Things Can Only Get Better.  I make a mental note that this will not be my last Piece Of Cake.
Full Steam Ahead to the Finish!
Starting the third lap I sense that I'm running well and decide to see how quickly I can finish.  This race isn't about getting a PB, the course and weather put pay to that.  Yet, I find myself enjoying the difficult conditions nonetheless.  The third ascent of Angel Hill (there really isn't anything angelic about it!) is the last.  It shows.  I tire quickly and struggle to maintain my pace, the halfway plateau gives me a quick breather before the last, lung-busting effort to the finish.  Without the lake to run around the third time, I know that I can start to stretch out for the finish.
My chip records a time of 51:58, well short of the personal best of 49:08 I achieved at the Bury 10k last year.  Walking away from the finish, I realise how much I need to enter more runs like this.  The sense of achievement, the bubbly atmosphere, friendly running crowd and cake make the exertion well worthwhile.
Finding Your Limits
Why would you enjoy running in that heat?  Friends inquire as to my sanity later in the day and I don't quite know how to answer.  The more difficult the conditions, the more interesting running is. There is little satisfaction in finishing a race if it doesn't push you to your limits. If you know for sure that you can do something, what have you achieved?
Manchester Frontrunner's It's A Piece of Cake is no cake walk. If you want a good time, you have to work for it with three exertions up a sharp incline. This race will test your limits, it will expose your weaknesses, you will find it tough.
The reward is worth it.
I'll make sure I book my place in plenty of time for next year!